It is Invisible & Durable

Paint Protection means stone chips protection for your vehicles front Hood, Fenders, Mirror caps, Headlights and so on.
Are you interested in keeping your car looking new, but not happy with the look or maintenance of a car bra? If so, then the clear paint protection is a beautiful alternative. It is a nearly undetectable protective film that protects your vehicle's painted surface from everyday road hazards.
Protect the most vulnerable areas from:
Insect stains and abrasions.
Scratches and nicks.
Small road debris damage.
Winter road salt and sand.
Our paint protection film is better than bug shields and car bras, because it is
Is practically invisible.
Is durable, dependable and guaranteed.
Is customized to fit your vehicle make and model.
Is computer cut for precise fitting.
Won't harm paint finish.
Doesn't require special maintenance.
Is installed by Winners Window Tint professionals.
We are so confident in our stone guard film performance, that we guarantee it with a 5-year limited manufacturer's warranty:
Won't crack, peel or bubble.
Won't discolor or turn yellow.
Will stay put.
Will remain optically clear.
Please contact us today to discover how beautiful your vehicle can look with our clear paint protection film
Will it diminish the appearance of my car?
VentureShield Paint Protection Film will protect your car from stone chips for years, and remain virtually invisible.
Can VentureShield Paint Protection Film be washed and waxed?
Yes, you may wash and wax your vehicle as if VentureShield Paint Protection Film were not present.
Will my car fade under the sun?
Yes. VentureShield Paint Protection Film is UV stable, but will allow UV rays to penetrate. This feature eliminates the two shades of paint problem resulting from traditional car bras. Remember however, that unlike other films, VentureShield Paint Protection Film does not discolour, crack or peel.
If I sell my car, can VentureShield Paint Protection Film be removed?
Yes. VentureShield Paint Protection Film uses a patented acrylic adhesive which can be safely removed without residue, leaving your car looking as great as the day you bought it!
Total Transparency.
VentureShield Paint Protection Film will also protect todays expensive headlights from stone chips that leads to moisture entrapment, cracks and blown fuses. Due to its optical clarity, VentureShield Paint Protection Film will not diminish light transmission from your headlights, whilst providing maximum paint protection from stone chips.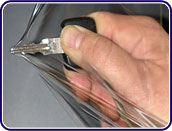 Summary
Crystal clear, high gloss, non-yellowing urethane film to protect from stone chips and other damaging elements
Clings tenaciously, yet removes cleanly, without residue, from fully cured paint surfaces
Virtually invisible, VentureShield does not alter the aesthetics of the vehicle or its factory finish