Energy saving calculator can be put right under Film viewer.
Cut the Heat, UV and Glare when you are working in your office and save the energy.
For Commercial buildings we use Vista and Llumar one of the best window film available in the World.
Premium Glazing Solutions
For modernization and retrofit projects alike, Vista™ Window Film is one of the most effective and economical methods of controlling energy costs and increasing comfort.
A smart alternative to window replacement Vista Window Film offers premium, high-performance solutions for all types of glazing systems, clear, tinted, low-e or coated glass, and from curtain wall to interior glass.
With an average payback of less than 3 years, Vista Window Film controls overall operating costs, balances building temperatures, and reduces load on HVAC system which prolongs HVAC life.
Let us show you why Vista window film is the choice of building owners, architects, and facility managers throughout North America.
Lower Energy Costs
Vista™ Window Film will boost the performance of nearly any glazing system, significantly reducing energy consumption and peak demand.
By improving HVAC efficiency, Vista Window Film can deliver annualized energy savings as high as 15% with an average payback within three years!
Our exclusive Energy Audit process utilizes widely accepted DOE-2 analytics to estimate savings potential for your building.
This low-cost, high-return energy conservation measure is a significant contributor to building envelope efficiency. Get started by taking the "One Minute Challenge".
Energy Savings Estimator
The Vista One Minute Challenge™ uses the U.S. Department of Energy's DOE-2 energy simulation program, along with average energy costs for your area, to calculate expected savings. Using the drop-down menus below, simply select your location, glass type, building type and product type and we'll show you how much you can expect to save – and how quickly an investment in Vista can pay you back.
Improve Comfort and Productivity
By reducing solar heat gain up to 75%, Vista Window Film will reduce unwanted heat gain and eliminate hot and cold spots throughout your building.
Vista Window Film also reduces harsh glare to create a more comfortable, productive work environment.
Block Harmful UV Rays
Vista Window Film filters out up to 99.9% of UVA and UVB rays, helping to protect interior furnishings, merchandise, and occupants from sun damage.
This protection saves money and can help protect investments.
Avoid Costly Replacement Windows
At one-fifth to one-tenth the cost of replacement windows, depending on the application, Vista Window Film offers an attractive alternative for improving energy efficiency.
Vista Window Film delivers up to 7 times the energy efficiency per $1 invested vs new windows, all with a quick, non-disruptive installation.
Move Closer to LEED Certification
By lowering energy costs, reducing carbon emissions and improving aesthetics, Vista Window Films can help your building qualify for up to 9 points in LEED certification.
Visit www.usgbc.org/leed for more details.
Control Damage from Broken Glass
Vista Solar/Safety Window Films and LLumar® Protective Films can help you control or even eliminate the danger and damage caused by broken glass in new construction and retrofit projects.
Made with thick, heavy-duty polyester bonded by strong adhesives, these films provide an optically clear yet powerful barrier that helps hold glass in place should impact occur.


A revolutionary glass insulation technology that offers year round energy savings. Learn more at www.enerlogicfilm.com
Premium Advantages
The Power of a Premium Brand
Lesser brands push a specific type of film, such as metalized or ceramic, for all applications. But Vista™ brand window film is about helping you find the solution that's right for your application.
We're able to do that because all of our films feature premier materials and technologies, such as:

UVShield™ Technology
All Vista films contain exclusive UV absorbers that block up to 99.9% of harmful UVA and UVB rays that help protect interior furnishings from sun damage.
CDF Adhesive System
Vista Window Film's CDF (Clear, Distortion-Free) adhesive system chemically bonds film to the glass for longer lasting performance.
Scratch-Resistant Coating
As the pioneer in coating technology, Vista Window Film's proprietary formula helps to ensure durability and easy maintenance.
Film Clarity
All Vista films are made with "Ultra Clear" polyester that will not distort your view – day or night.
Warranty
Vista Window Films are covered by one of the best warranties in the industry, protecting against thermal stress, seal failure, and film failure. (Some restrictions and limitations apply. Please see an authorized Vista Window Film dealer for details.)
7 Reasons to have tints on windows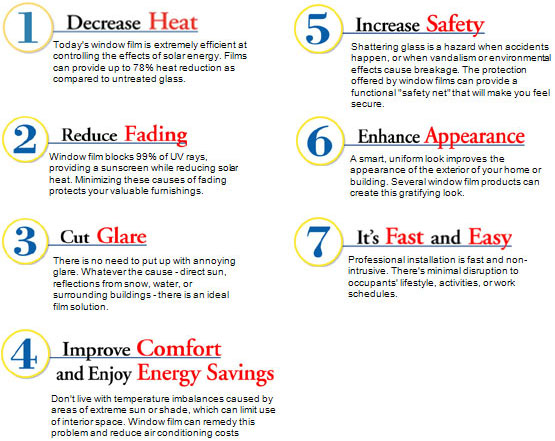 Important reason to tints your house windows
Decrease Heat: Our window film is extremely efficient at controlling the solar energy. Films can provide up to 80% reduction as compare to untreated glass.
Reduce Fading: Our window film block 99.99% of UV rays providing a sunscreen while reducing solar heat. Minimizing these causes of fading protects your valuable furnishings.
Cut Glare: There is no need to put up with annoying glare. Whatever the cause – direct sun, reflections from snow, water or surrounding buildings – there is an ideal film solution.
Improve Comfort and enjoy Energy Savings: Don't live with temperature imbalances caused by areas of extreme sun or shade, which can limit use of interior space. Window film can remedy this problem and reduce air conditioning costs.
Increase Safety: Shattering glass is a hazard when accidents, vandalism or environmental effects cause breakage. The protection offered by window films can provide a functional safety that will make you feel secure.
Enhance Appearance: A Smart, uniform look improves the appearance of the exterior of your home or building. Gives you privacy during the day time.